Kettering Pre-School
Address: Thurston Drive,
Kettering, Northants, NN15 6PB
Tel: 01536 484838
Manager: Chloe Staniscia
Deputy Manager: Trudi Parker
Childcare Provided: 2 – 5 years
Opening Hours: All Day 8:30 am – 6:30 pm
Morning 8:30 am – 11:30 am
Lunch Club 11:30 am – 12:00 pm
Afternoon 12:00 pm – 3:00 pm
---
Working With Parents
We actively work in partnership with parents and guardians to ensure healthy, happy children who are ready for mainstream school and hold regular Parents Evenings to keep you up to date with your child's progress.
---
Flexible Pre-School Sessions Following the EYFS
Following the key areas of the Early Years Foundation Stage with a focus on education through play, our Pre-School children are developed to their maximum capabilities to be ready for mainstream school. Please see opening hours for details on when sessions are held.
---
 News From The Rooms
Welcome from the Kettering Pre-School rooms, with all the latest childcare news in November-December 2016.
Toddler Room
Toddler Room
From 24 to 36 months
Ratio 1:4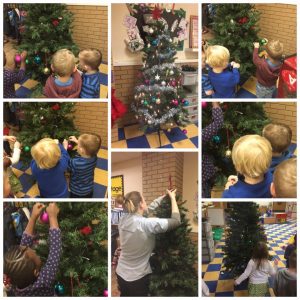 Throughout November we have continued to look at how the environment is changing from autumn into winter and we have been having discussion about how the weather might change throughout December.
As well as this we have also been looking at under the sea creatures, this extended onto an adult lead activity with a rainbow trout for the children to explore in the water tray.
Pre-School Room
Pre-School Room
From 3 to 5 years
Ratio 1:8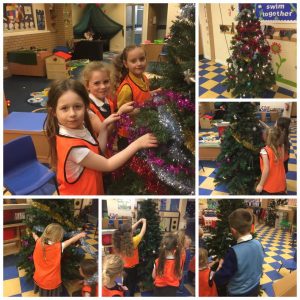 The same themes have been continued with our 3 – 5 year olds, but their learning has been extended through discussion about where sea creatures live and the environments they need to be in. The children that experienced the rainbow trout in the water tray were able to follow on from it in their own learning and play.
Moving forward into December, we are excited about our Christmas tea party and our trip to the theatre to watch Beauty and the Beast, to get into the season of Christmas.
Bear In Mind
Important Things To Bear In Mind
The last day of Pre – School is Friday 16th December and we return in the new year on Monday 9th December. Over the Christmas could you please take the opportunity to get photos of your children with their families so that in the new year we can have discussions about our families.
Out of School Clubs – Our After School Club offers school collections from the schools around Kettering. Please contact Chloe Staniscia or Trudi Parker on 01536 484838 for more information. Children have access to the indoor play centre to run, jump and climb after a busy day at school. Staff will offer support with your child's homework and reading on a parent's request. There are also lots of free time activities such as painting, drawing, building, role playing and messy play. The children also have access to a Wii and an Xbox. The children have enjoyed decorating the Christmas tree together.
Activity Day Camps – Book online now for lots of Christmas fun in our Holiday Club, come and enjoy exciting activities with the week leading up to Christmas.  We have great fun within the play centre with exclusive use from 8.30am-10.00am. To find out more information contact Chloe Staniscia or Trudi Parker on 01536 484838.
FAQ's