Kettering Pre-School
Address: Thurston Drive,
Kettering, Northants, NN15 6PB
Tel: 01536 484838
Manager: Chloe Staniscia
Deputy Manager: Trudi Parker
Childcare Provided: 2 – 5 years
Opening Hours: All Day 8:30 am – 6:30 pm
Morning 8:30 am – 11:30 am
Lunch Club 11:30 am – 12:00 pm
Afternoon 12:00 pm – 3:00 pm
---
Working With Parents
We actively work in partnership with parents and guardians to ensure healthy, happy children who are ready for mainstream school and hold regular Parents Evenings to keep you up to date with your child's progress.
---
Flexible Pre-School Sessions Following the EYFS
Following the key areas of the Early Years Foundation Stage with a focus on education through play, our Pre-School children are developed to their maximum capabilities to be ready for mainstream school. Please see opening hours for details on when sessions are held.
---
 News From The Rooms
Welcome from the Kettering Pre-School rooms, with all the latest childcare news in January/February 2017.
Toddler Room
Toddler Room
From 24 to 36 months
Ratio 1:4

Throughout January we have been enjoying a variety of different activities which include anything from junk modelling, story sacks, scarecrow making and fancy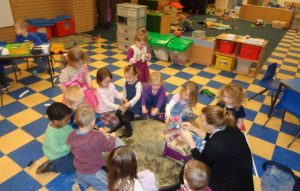 dress. The children all came back from the Christmas holidays very eager to learn. Many of the above activities have been extended on from the children's interests. From the story of The Hungry Caterpillar, the children have completed craft activities and engaged in many more story sack activities which then lead onto making scarecrows for our garden to keep the birds away.
Continuing into February, we will be exploring more story sacks as well as getting the children involved in telling the story themselves. We will also start to look at the changes that we may see around us as we see the end of winter approaching.
Pre-School Room
Pre-School Room
From 3 to 5 years
Ratio 1:8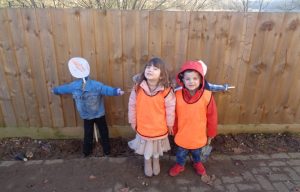 Settling back into the swing of things this year, the children have shown brilliant interest in name writing, numbers and the world around them holistically. Many of the children are aware that they will be graduating from Pre–School and heading off to the Primary school at some point this year. From this, we have been exploring the local environment on the search for letter and numbers that are of importance to us. Key workers have also been supporting children with their name writing and identifying the letters too.
As a whole setting, we have been exploring the Chinese culture with the lead up to Chinese New Year. We have watched videos of dragon dancing, festivals and listened to some of the music that we might hear at a Chinese New Year celebration. The children will also take part in a food tasting activity in their celebrations of Chinese New Year.
Bear In Mind
Important Things To Bear In Mind
As we have seen, the children have enjoyed getting muddy whilst exploring the garden, so can we please remember to send the children's wellies in as well as their warm coats so they can get as much out as possible of their outdoor experiences.
Out of School Clubs – Our After School Club offers school collections from the schools around Kettering. Please contact Chloe Staniscia or Trudi Parker on 01536 484838 for more information. Children have access to the indoor play centre to run, jump and climb after a busy day at school. Staff will offer support with your child's homework and reading on a parent's request. There are also lots of free time activities such as painting, drawing, building, role playing and messy play. The children also have access to a Wii and an Xbox. The children have enjoyed decorating the Christmas tree together.
Activity Day Camps – February half term is fast approaching and we are excited to get our skates on for a slip and slide on the ice for our fantastic day trip, as well a dip in the pool for a splish and splash after some spectacular science experiments. Please book now online.
FAQ's