Having a young family has its challenges and to help overcome some of these, we always recommend parents of our Nursery children create a routine. For young children, a routine helps establish normality, a way to achieve goals and provide a sense of security.
Although introducing a routine can be challenging and difficult to implement at first, trust us when we say it is worth the effort! Challenges of everyday life can mean that bringing structure and consistency to daily routine will be difficult but ultimately once implemented you will see large improvement in your home life.
There are a number of benefits to young children being out into a routine by their parents/guardians including improving a child's mental health and behaviour.
In this article we will look in detail at some of the benefits of having a routine for young children.
Security & Control
Change can be stressful for anyone, Rachel Goldman a psychologist and professor at NYU School of Medicine states "If people don't have structure and are sitting around with less to focus on, then they also probably will find themselves thinking about the stressful situation more, which can also lead to additional stress and anxiety."
This is no different for young children, they thrive best when they know what to expect from the day, whether this is being dropped off at their nursery, mealtimes or brushing their teeth.  A routine gives them comfort and makes them feel secure.
Help to learn essential life skills and grow in confidence
A simply daily routine will help children develop essential life skills through repetition of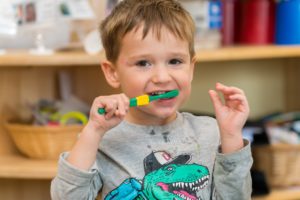 tasks.  For example,  like washing hands before lunch, getting dressed and brushing teeth.
Repetition enables children's confidence to also increase as they get better at the task in hand. They will take pride in knowing what they are supposed to do, and ultimately gain independence at doing the  task by themselves.
Routines that endorse essential life skills help with basic hygiene, self-control and time management.
Limit poor behaviour and outbursts
A lot of a young child's bad behaviour comes from tiredness, hunger and over stimulation, a routine helps to combat against these issues.  if your child goes to nursery a couple of times a week, try to follow similar timings for their nap or speak to the nursery to see how they can mirror your routines.
Developing a routine will naturally help your child to emotionally prepare for what the next task in the day is and understand what is expected of them.
 Improved Social Skills
Social interactions for all age groups are highly important and helps us to form who we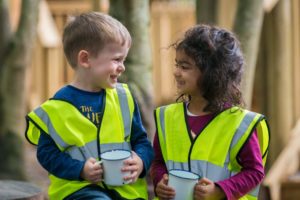 are. Having a routine will help and support your young child to build their social skills, this could be in the form of interacting with members of your immediate family, play dates with friends who have their own children or attending nursery.
Through talking, taking turns, sharing toys, learning to wait, and helping others during these activities, young children learn important social skills that will help them later on in school.
Family bonding
Time for family bonding is important.  With all of us leading busy lives, a routine helps us set aside family time. It is important for a young child to understand the importance of doing activities together as a family and how special this time is.     This quality time will also usually help define a young child's interests, values and beliefs.
Many of Kids Play's Nursery parents choose bedtime stories as an opportunity to connect at the end of the day.  Bed time stories also embed a love of reading and connecting it with a pleasurable experience.
Give time to be spontaneous
Although it is important to have a routine, it is just as important to not be overly rigid within the activities you plan.    At Kids Play Childcare we schedule mealtimes, nap times and storytimes, however, the experiences we provide are developed around what the child's current interests are.
We do this at Kids Play Childcare as research has shown children are more likely to engage and learn if our teaching builds upon an existing interest.  For example, a child recently was interested in bugs, after going out on a family walk, where they saw lots of bugs in their local park. We therefore, decided to expand on this interest and do a bug hunt, where we took pictures/wrote down all the different bugs we found. We then came back to the nursery and drew all of the different bugs.
Please talk to a member of the Childcare team, if you'd like to discuss your home routine in more detail or if you'd like us to work together on creating more synergy between home and nursery routines.
https://www.verywellmind.com/the-importance-of-keeping-a-routine-during-stressful-times-4802638
Back to Articles