Bury St Edmunds Day Nursery and Pre-School
Address: Newmarket Road, Bury St Edmunds, Suffolk, IP33 3SN
Tel: 01284 700414
Manager: Kay Fynn
Deputy Manager: Carly Sharp
Childcare Provided: 6 weeks to 5 years
Opening Hours: 7:30 am – 6:30 pm
---
Brand New Nursery Setting
Now open in a brand new, state-of-the-art setting, Bury St Edmunds Day Nursery and Pre-School provides the very best in childcare for children aged 6 weeks to 5 years of age.
We acknowledge and value children's play and exploration as a powerful way in which they develop, so it is important that children have access to age appropriate resources in every room to meet their individual needs and to promote their choice and independent learning, all following the Early Years Foundation Stage curriculum.
Plus, each of the Nursery and Pre-School rooms have free-flow access into their own secure garden areas, all purpose-built for optimum play and development, including sandpits, gazebos, mud kitchen, role play hut, tyre, bridge and balancing beam. The Nursery also boasts an onsite kitchen complete with a qualified chef that cooks healthy snacks and meals every day for each age group.
---
Working With Parents
We actively work in partnership with parents and guardians to ensure healthy, happy children who are ready for mainstream school and hold regular Parent's Evenings to keep you up to date with your child's progress.
To ensure that children are safe in their surroundings, our parent entrance area at the Nursery is accessible by a secure finger print entry system and contains a children's library with seating for both parents and children to read stories together as well as take books home to enjoy too.
---
News From The Rooms
Welcome from the Bury St Edmunds Nursery & Pre-School rooms, with all the latest childcare news in January/February 2017.
Baby Room
Baby Room
From 6 weeks to 24 months
Ratio 1:3
Baby Room: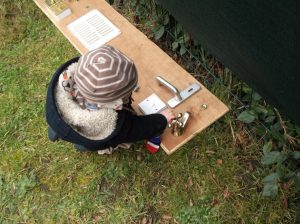 The Babies have had a wonderful time in the garden using their senses to explore their environment, they particularly enjoyed catching and popping the bubbles, laughing when they popped!
They have enjoyed a spring picnic and investigating the compost and hay. Back in the room, they have participated in a variety of mark making materials including gloop, flour and cereal.
Throughout February, the babies will be creating some yummy treats for their special valentines. As the babies vocabulary is developing, they will be taking part in some learning experiences to support this such as song sacks, rhyme time and familiar songs.
Toddler Room
Toddler Room
From 24 to 36 months
Ratio 1:4
Toddler Room: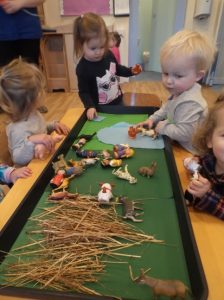 Throughout January, we have welcomed lots of new faces who are all settling in well to their new environment. They have been engaging in a range of messy and malleable experiences making lots of mess and using a wide range of tools and props to make marks. Outside, they have been inspecting at the frost and leaves on the ground with the magnifying glasses.
In February they will be making lovely cards and keepsakes for their loved ones. They will go on a range of experiences and listen to stories relating to their interest of animals.
Pre-School Room
Pre-School
From 3 to 5 Years
Ratio 1:8
Pre-School Room:
The Pre-School room has really increased in numbers this month, with many children moving up from the Toddler Room and we're seeing many new faces.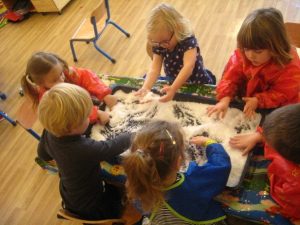 The children have been learning new songs and some have been brave enough to nominate themselves to sing in front of the whole group.
In February we look forward to making lots of goodies for Valentine's Day and are going on a visit to a local residential home to sing and make cards with the residents.
Bear In Mind
Important Things To Bear In Mind
As the weather has turned cooler, please can we ask that parents provide appropriate clothing (coats, wellies, hats, scarves and gloves) so that your children can continue to access the outdoor environment.
FAQ's