Putting Nutrition First
You'll be pleased to hear that breakfasts, lunches and dinners are healthy, wholesome and included in your Nursery or Pre-School Fees. Freshly prepared at each of our Nurseries professional kitchens, we are able to cater for any special dietary needs your child may have.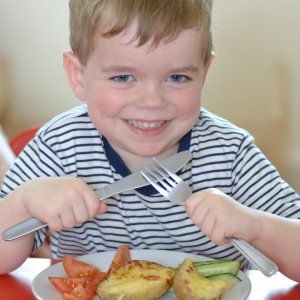 We understand the importance of a healthy, balanced diet for every
child, which is why our meals are created by a qualified nutritionist. We do also ensure that where possible our meals meet the Red Tractor food standards so all our Day Nursery and Pre-School children are guaranteed balanced and nutritious meals.
Our Menus roll over a 4 week period and copies can be obtained from your Nursery team to help you plan meals for your child at home.