Bury St Edmunds Day Nursery and Pre-School
Address: Newmarket Road, Bury St Edmunds, Suffolk, IP33 3SN
Tel: 01284 700414
Manager: Kay Fynn
Deputy Manager: Carly Sharp
Childcare Provided: 6 weeks to 5 years
Opening Hours: 7:30 am – 6:30 pm
---
Brand New Nursery Setting
Now open in a brand new, state-of-the-art setting, Bury St Edmunds Day Nursery and Pre-School provides the very best in childcare for children aged 6 weeks to 5 years of age.
We acknowledge and value children's play and exploration as a powerful way in which they develop, so it is important that children have access to age appropriate resources in every room to meet their individual needs and to promote their choice and independent learning, all following the Early Years Foundation Stage curriculum.
Plus, each of the Nursery and Pre-School rooms have free-flow access into their own secure garden areas, all purpose-built for optimum play and development, including sandpits, gazebos, mud kitchen, role play hut, tyre, bridge and balancing beam. The Nursery also boasts an onsite kitchen complete with a qualified chef that cooks healthy snacks and meals every day for each age group.
---
Working With Parents
We actively work in partnership with parents and guardians to ensure healthy, happy children who are ready for mainstream school and hold regular Parent's Evenings to keep you up to date with your child's progress.
To ensure that children are safe in their surroundings, our parent entrance area at the Nursery is accessible by a secure finger print entry system and contains a children's library with seating for both parents and children to read stories together as well as take books home to enjoy too.
---
News From The Rooms
Welcome from the Bury St Edmunds Nursery & Pre-School rooms, with all the latest childcare news in October/November 2017.
Baby Room
Baby Room
From 6 weeks to 24 months
Ratio 1:3
Baby Room: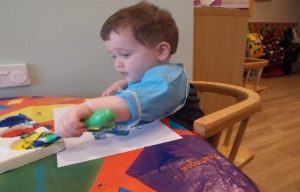 The babies have been exploring new textures this October including coloured ice play and pumpkin carving. We kept the insides of the pumpkins and used it to make some lovely scented playdough. We have sent home some beautiful artwork created by the babies with the Halloween playdough cutters and lots of bright coloured paints!
To encourage the younger children to get on their feet confidently and support gross motor skills we have done early mark making using rollers on the walls too, creating some lovely pieces of art.
November has been another chance to get messy and explore our senses. The children have helped to bake biscuits to sell in the bake sale to raise money for Children in Need. They had a great time investigating the ingredients and got rather messy! With Christmas on the way, we are busy practicing our Christmas songs ready for our festive sing-a-long. We will also be making lots of yummy goodies to take home and proudly put on display.
Toddler Room
Toddler Room
From 24 to 36 months
Ratio 1:4

Toddler Room:

During October the toddlers went on an Autumn walk where we went to collect leaves, sticks and pinecones. The toddlers learnt the colours of the leaves.
We celebrated Halloween by making Halloween ghosts, leaf monsters and dressing up! The toddlers used their fine motor skills cutting with scissors and holding the paintbrushes. We have been using our green fingers outside in the garden planting some bulbs and beautiful flowers, we used the spades to dig and have been and have been learning about how to look after them.
During November the toddlers joined in with the children in need activities, cooking for the bake sale doing lots of pouring and mixing.
They have been exploring a variety of messy play activities such as shaving foam, paint, water and sand.
They got involved with the sparklers and scarecrow events with parents and carers and had lots of fun apple bobbing, toasting marshmallows and making shapes with the sparklers.
Pre-School Room
Pre-School
From 3 to 5 Years
Ratio 1:8
Pre-School Room: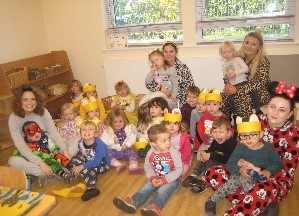 We've had a spookily fun time this October in the Pre-School Room. From pumpkin carving and dressing up to spider crafts and pumpkin playdough. We've had it all. You may have noticed a few homey changes to the room with the additions of an extended construction area that has become the latest foundation of excitement and creativity. Who knew we had so many talented builders?
November has been an exciting time in the Pre-School Room. From Halloween to Christmas in the flick of a switch, the children are really enjoying practicing Christmas songs, ready for their big performance. The fun has just kept going this month, especially during Children In Need. Cake anyone? The Pre-School put on their chef hats and got to work creating the best yellow cupcakes you have ever seen. We are sure you all agree. With cupcakes and cosy PJ's, we had an amazing day raising money.
Bear In Mind
Important Things To Bear In Mind
FAQ's