Bury St Edmunds Day Nursery and Pre-School
Address: Newmarket Road, Bury St Edmunds, Suffolk, IP33 3SN
Tel: 01284 700414
Manager: Kay Fynn
Deputy Manager: Carly Sharp
Childcare Provided: 6 weeks to 5 years
Opening Hours: 7:30 am – 6:30 pm
---
Brand New Nursery Setting
Now open in a brand new, state-of-the-art setting, Bury St Edmunds Day Nursery and Pre-School provides the very best in childcare for children aged 6 weeks to 5 years of age.
We acknowledge and value children's play and exploration as a powerful way in which they develop, so it is important that children have access to age appropriate resources in every room to meet their individual needs and to promote their choice and independent learning, all following the Early Years Foundation Stage curriculum.
Plus, each of the Nursery and Pre-School rooms have free-flow access into their own secure garden areas, all purpose-built for optimum play and development, including sandpits, gazebos, mud kitchen, role play hut, tyre, bridge and balancing beam. The Nursery also boasts an onsite kitchen complete with a qualified chef that cooks healthy snacks and meals every day for each age group.
---
Working With Parents
We actively work in partnership with parents and guardians to ensure healthy, happy children who are ready for mainstream school and hold regular Parent's Evenings to keep you up to date with your child's progress.
To ensure that children are safe in their surroundings, our parent entrance area at the Nursery is accessible by a secure finger print entry system and contains a children's library with seating for both parents and children to read stories together as well as take books home to enjoy too.
---
News From The Rooms
Welcome from the Bury St Edmunds Nursery & Pre-School rooms, with all the latest childcare news in May/June 2017.
Baby Room
Baby Room
From 6 weeks to 24 months
Ratio 1:3
Baby Room: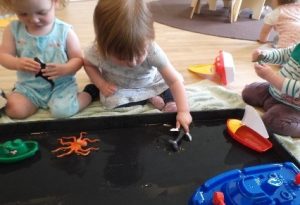 Last month the babies spent lots of time exploring the water tray – emptying and filling, 'washing up', floating boats and sharing the small world sea animals. The babies showed lots of excitement as they splashed the water also, promoting their sensory development.
This month the babies have been developing their gross motor skills as they have played with a selection of transport vehicles. The practitioners created different ramps for the babies, rolling the vehicles down from different heights, developing speeds.
Toddler Room
Toddler Room
From 24 to 36 months
Ratio 1:4

Toddler Room: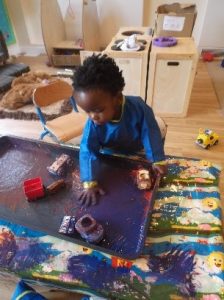 The toddlers have been busy developing their mark making skills using a variety of implements such as cars in paint, brushes in water outside and printing with fruit and vegetables. In the cosy corner, they have recently created a wonderful special people folder filled with photos of people who are special to the children. This is on offer to the children and they have shown an interest in who is special in their lives.
This month the toddlers have been introduced to Makaton signing. Signing can help encourage young children to develop the potential to communicate. So far the children have been taught signs associated with their snack time routine such as milk, water, please and thank you. The toddlers have also been creating special pictures for their special grown-ups this Fathers Day.
Pre-School Room
Pre-School
From 3 to 5 Years
Ratio 1:8
Pre-School Room: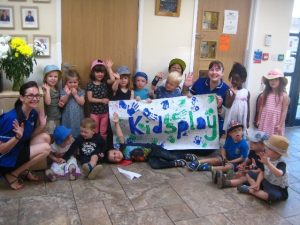 Recently the Pre-Schoolers learnt all about life cycles, due to their interest in a selection of tadpoles brought in by one of the children from their pond. This helped develop their vocabularies as they learned new words such as cocoon and frog spawn.
This month, the children have been making Fathers day medals to reward to a special grown up in their lives. The children took pride in their medals and were encouraged to share with us something special about their grown up.
Nearby, The Range shop is being built and some of the Pre-Schoolers have been invited to create and bury a time capsule on the site. The children took a shopping trip to Asda, selecting a variety of objects to put inside. They also created a poster with their names, the date and their hand prints on.
Bear In Mind
Important Things To Bear In Mind
FAQ's