Brooksward Day Nursery & Pre-School
Address: Brooksward School, Tower Drive, Neath Hill, Milton Keynes, Bucks, MK14 6JZ
Tel: 01908 607608
Nursery Manager: Laura Lamberton
Deputy Manager: Kayleigh Fletcher
Pre-School Manager: Simone Mair
Childcare Provided: 6 weeks to 5 years
Opening Hours: 7:30 am – 6:00 pm
---
Structured Education Through Play
Based next door to Brooksward School, Neath Hill, Brooksward Day Nursery and Pre-School provides childcare for children from the local community and surrounding areas. Children attend for a variety of sessions, including special educational needs and/or disabilities and children who speak English as an additional language are also supported. Following the Early Years Foundation Stage (EYFS), we offer structured education through play with a variety of age appropriate, adult-led and child-led activities for all the children. With different and stimulating rooms for each age group, we also have a secure, enclosed outdoor play area where Nursery and Pre-School children can show off their green fingers!
---
Working With Parents
Here at Brooksward Day Nursery & Pre-School, we realise that choosing the right nursery is one of the most difficult decisions parents will have to make. Our aim is that all children are happy, confident, secure and ready for mainstream school. All children at the Day Nursery and Pre-School have a designated key person to build strong relationships with parents and guardians. In addition, we record the children's daily activities in their own Journals, available for parents to take home at the end of the day. We are committed to building parent relationships and this is evident with regular Parent Feedback Evenings.
---
 News From The Rooms
Welcome from the Brooksward Day Nursery and Pre-School, with all the latest childcare news in September-October 2016.
Baby Room
Ladybirds Baby Room
From 6 weeks to 24 months
Ratio 1:3
Ladybirds Room:
In the Ladybirds Room we have been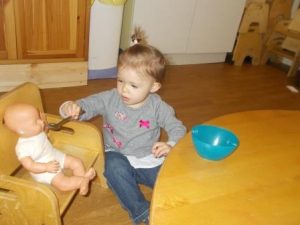 exploring the different areas in our new garden! We have also been developing our fine motor skills through action songs and our new scuttle bugs. We enjoyed singing "we're going to the moon" so much that we made rockets as props to zoom up into the sky. We have loved playing with the babies, developing imaginative skills through feeding and bathing them. We loved getting messy with various mark-making such as sponge painting, cotton bud painting and mixing colours.
Toddler Rooms
Bumblebees Toddler Room
From 24 to 36 months
Ratio 1:4
Bumblebees Room:
In the Bumblebees Room the toddlers have been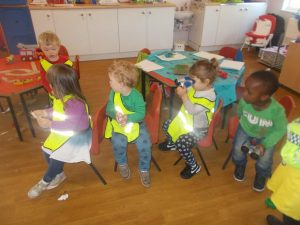 fascinated with growth. Moving on from our previous planting of carrots we have used cress seeds to allow the children to really see how things grow and change over time. This has extended their vocabulary and allowed them to develop mathematical and self-help skills as they cared for their seeds. The children recently have been fascinated with busses and travel, talking about holidays they had been on over the summer and creating their own busses using props such as chairs they have found in the toddler room. The children explored pictures and rhymes about busses through ICT and then created their own busses.
Pre-School Room
Butterflies Pre-School
From 3 to 5 Years
Ratio 1:8
Butterflies Room:
This term at Pre-School we have been focusing on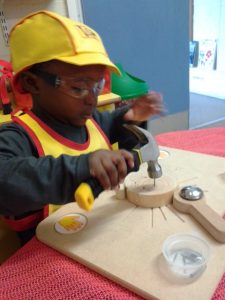 numbers and doing lots of counting. We are beginning to look at shapes and have been exploring our environment to see what interesting things we can find. The children have been experimenting with different ICT equipment, such as the Bee-bots and remote control cars and have been exploring different media, such as a creating textured play dough, mixing paints to create new colours and building their own models using recycling materials. During the past few weeks the children have been developing an awareness of healthy and unhealthy foods and have made their very own healthy eating plates. We have also been exploring our new woodwork kits. We are looking forward to an exciting half term, when we will be taking a trip to Mead Open Farm!
Bear In Mind
Important Things To Bear In Mind
Don't forget : If you have older children we have an action packed Christmas holiday planned – check it out on our holiday club page.
Dates for your diary: Coming soon!
Activity Day Camps: Coming soon!
FAQ's