Brooksward Day Nursery & Pre-School
Address: Brooksward School, Tower Drive, Neath Hill, Milton Keynes, Bucks, MK14 6JZ
Tel: 01908 607608
Nursery Manager: Laura Camfield
Deputy Manager: Amanda Chapman
Pre-School Manager: Simone Mair
Childcare Provided: 6 weeks to 5 years
Opening Hours: 7:30 am – 6:00 pm
---
Structured Education Through Play
Based next door to Brooksward School, Neath Hill, Brooksward Day Nursery and Pre-School provides childcare for children from the local community and surrounding areas. Children attend for a variety of sessions, including special educational needs and/or disabilities and children who speak English as an additional language are also supported. Following the Early Years Foundation Stage (EYFS), we offer structured education through play with a variety of age appropriate, adult-led and child-led activities for all the children. With different and stimulating rooms for each age group, we also have a secure, enclosed outdoor play area where Nursery and Pre-School children can show off their green fingers!
---
Working With Parents
Here at Brooksward Day Nursery & Pre-School, we realise that choosing the right nursery is one of the most difficult decisions parents will have to make. Our aim is that all children are happy, confident, secure and ready for mainstream school. All children at the Day Nursery and Pre-School have a designated key person to build strong relationships with parents and guardians. In addition, we record the children's daily activities in their own Journals, available for parents to take home at the end of the day. We are committed to building parent relationships and this is evident with regular Parent Feedback Evenings.
---
 News From The Rooms
Welcome from the Brooksward Day Nursery and Pre-School, with all the latest childcare news in August/September 2017.
Baby Room
Ladybirds Baby Room
From 6 weeks to 24 months
Ratio 1:3
Ladybirds Room:
During the month of August, the babies have been using a variety of their senses to extend their knowledge towards animals and their individual habitats. Elaborating from this, we have created different environments and crafts using everyday materials. The babies expressed a particular preference towards our frozen fish and muddy farm animals which were put in chocolate custard.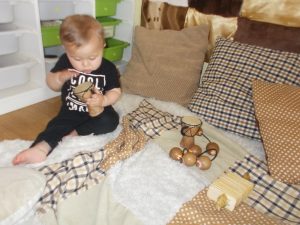 During the month of September, we have decided to focus on the babies' communication skills. Encouraging them to repeat single words, we have been planning activities around large group times. We have also noticed a high level of interest towards familiar nursery rhymes initiating sounds and short words whilst releasing our energy through dancing.
Toddler Rooms
Bumblebees Toddler Room
From 24 to 36 months
Ratio 1:4
Bumblebees Room:
During August, the children have found an interest in measuring their feet with masking tape. Moving this forward, we introduced a shoe shop to the provision this activity was then extended to a food shop which all the children had great joy in participating in with lots of enthusiasm. The children have also participated in mixing their own paints which lead to the creating some amazing bubble paintings. A favourite in the garden this month has been taking the babies on an adventure in the prams around the garden and changing their outfits.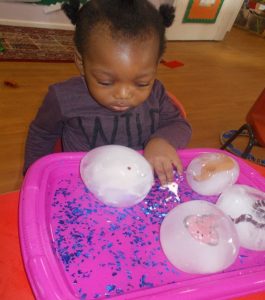 During September, the children have been showing a high level of interest in constructing transport vehicles using different resources and equipment such as chairs, large blocks, pine cones and junk modeling materials. The children show curiosity in exploring one-handed tools such as scissors, paint brushes, knives, rollers etc developing their independence and fine motor skills and understanding of how each tool is used safely and correctly for the correct purpose.
Pre-School Room
Butterflies Pre-School
From 3 to 5 Years
Ratio 1:8
Butterflies Room:
During August, we have been learning to count form 1-10 and beyond and matching these to quantity. We have achieved this by using natural resources to count and group.  We have been observing the effects on the body through movements and exercise through swimming, the jungle park obstacle course mini stickers and more. We have also been exploring growth and decay; growing tomatoes and watching as they change colour and sizes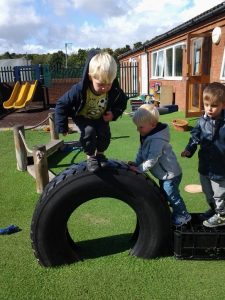 During September, we have been measuring distance with a variety of resources and recording this such as looking at how far a car can travel down a track. We are continuing to develop our understanding of numerals and problem solving through measuring and explore number and pattern boards. We have been developing fine motor skills for handwriting, exploring colours and how they can be changed. The children have a strong interest in the gingerbread man and we have been exploring different ways in which we can retell this.
Bear In Mind
Important Things To Bear In Mind
FAQ's