Brooksward Day Nursery & Pre-School
Address: Brooksward School, Tower Drive, Neath Hill, Milton Keynes, Bucks, MK14 6JZ
Tel: 01908 607608
Nursery Manager: Laura Lamberton
Deputy Manager: Kayleigh Fletcher
Pre-School Manager: Simone Mair
Childcare Provided: 6 weeks to 5 years
Opening Hours: 7:30 am – 6:00 pm
---
Structured Education Through Play
Based next door to Brooksward School, Neath Hill, Brooksward Day Nursery and Pre-School provides childcare for children from the local community and surrounding areas. Children attend for a variety of sessions, including special educational needs and/or disabilities and children who speak English as an additional language are also supported. Following the Early Years Foundation Stage (EYFS), we offer structured education through play with a variety of age appropriate, adult-led and child-led activities for all the children. With different and stimulating rooms for each age group, we also have a secure, enclosed outdoor play area where Nursery and Pre-School children can show off their green fingers!
---
Working With Parents
Here at Brooksward Day Nursery & Pre-School, we realise that choosing the right nursery is one of the most difficult decisions parents will have to make. Our aim is that all children are happy, confident, secure and ready for mainstream school. All children at the Day Nursery and Pre-School have a designated key person to build strong relationships with parents and guardians. In addition, we record the children's daily activities in their own Journals, available for parents to take home at the end of the day. We are committed to building parent relationships and this is evident with regular Parent Feedback Evenings.
---
 News From The Rooms
Welcome from the Brooksward Day Nursery and Pre-School, with all the latest childcare news in February/March 2017.
Baby Room
Ladybirds Baby Room
From 6 weeks to 24 months
Ratio 1:3
Ladybirds Room:
During the month of March, we have been encouraging and supporting the babies language development, as we have focused on their small world interests. With prompting the children to repeat the different animal sounds, we have created a wide range of different role play scenes such as farmyards, under the sea and dinosaur land. Through their imaginative play, the children have been introduced to the different habitats and encouraged to repeat back single words.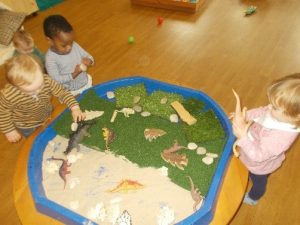 Throughout the month of April, we have continued to let the babies explore a wider variety of textured materials as we have tried out new activities. Encouraging the children within the ladybird's room to let their sensory exploration lead their play, they have been provided with opportunities to further develop their five senses. Planning on from their individual preferences, the children have been introduced to a mixture of sensory bags containing feathers, shaving foam and paint, coloured water and lentils.
Toddler Rooms
Bumblebees Toddler Room
From 24 to 36 months
Ratio 1:4
Bumblebees Room:
In March, we have been exploring the garden by investigating the mud pits to look for bugs. We used our equipment such as spades, forks and our hands to dig to look for worms, spiders and ants. We then came back into the room and we drew what we looked for to created a lovely minibeasts board for our room. One day when we came in, we found a spider in the sink and the children got very excited. We looked at the spider and counted its legs and the colour of the spider. We then took a photo and added that to our board too. We have also been watering our potatoes, carrots and onions that we planted last month and looking to see if they have grown. The children also made mothers day cards and went to the post office to buy stamps and posted them home to their mums.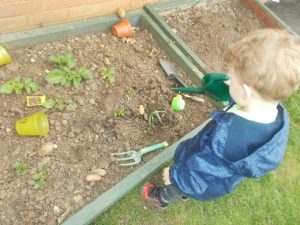 During April we will be developing our physical skills by playing in the garden balancing on the balancing beams, looking at different ways of moving, for example, hopping, jumping, skipping etc, making an obstacle course to move around the area, crawling under our netting, and climbing on the climbing frame. We are also going to be focusing on our number skills by looking at puzzles, number cards and our compare bears, to develop our numeracy skills, counting in route and recognising numbers 1-10.
Pre-School Room
Butterflies Pre-School
From 3 to 5 Years
Ratio 1:8
Butterflies Room:
During March and April, the pre-school children have shown a great interest in exploring our ICT and technological equipment such as the Vtech Kidizoom camera, Bee-bot and remote control cars. The children have loved taking photos of each other, negotiating around obstacles and having races with the bee bots and remote control cars.
The children have also been learning about a few festivals that have taken place over March and April. The children created special gifts for their mothers for mothers day and learned why we celebrate Mother's day. They created candle holders and made Mother's day cards to send home. The children learnt about the Easter story and created their own Easter cards.
The pre-school children have all enjoyed exploring the Woodworking tools. They have been exploring the different tools, how they work and what they can do with them. They will continue to develop these skills to enable them to create objects with wood.
Bear In Mind
Important Things To Bear In Mind
Although the weather is trying to be nicer, please still bring your child in with a coat as the weather can be unpredictable.
FAQ's