Brooksward Day Nursery & Pre-School
Address: Brooksward School, Tower Drive, Neath Hill, Milton Keynes, Bucks, MK14 6JZ
Tel: 01908 607608
Nursery Manager: Laura Lamberton
Deputy Manager: Kayleigh Fletcher
Pre-School Manager: Simone Mair
Childcare Provided: 6 weeks to 5 years
Opening Hours: 7:30 am – 6:00 pm
---
Structured Education Through Play
Based next door to Brooksward School, Neath Hill, Brooksward Day Nursery and Pre-School provides childcare for children from the local community and surrounding areas. Children attend for a variety of sessions, including special educational needs and/or disabilities and children who speak English as an additional language are also supported. Following the Early Years Foundation Stage (EYFS), we offer structured education through play with a variety of age appropriate, adult-led and child-led activities for all the children. With different and stimulating rooms for each age group, we also have a secure, enclosed outdoor play area where Nursery and Pre-School children can show off their green fingers!
---
Working With Parents
Here at Brooksward Day Nursery & Pre-School, we realise that choosing the right nursery is one of the most difficult decisions parents will have to make. Our aim is that all children are happy, confident, secure and ready for mainstream school. All children at the Day Nursery and Pre-School have a designated key person to build strong relationships with parents and guardians. In addition, we record the children's daily activities in their own Journals, available for parents to take home at the end of the day. We are committed to building parent relationships and this is evident with regular Parent Feedback Evenings.
---
 News From The Rooms
Welcome from the Brooksward Day Nursery and Pre-School, with all the latest childcare news in May/June 2017.
Baby Room
Ladybirds Baby Room
From 6 weeks to 24 months
Ratio 1:3
Ladybirds Room:
In May, the babies have explored mark-making using a variety of approaches such as pipe cleaner painting, string painting and also using textured brushes. This has increased and developed their fine motor skills and control in using different objects to create marks.
We also explored a variety of materials using our senses through messy play with frozen jelly and shaving foam.
In June, we will continue to explore the babies interest in mark making in different ways and also focus on the children's gross motor skills through a range of physical activities such as ball games, obstacle course, and soft play.
Toddler Rooms
Bumblebees Toddler Room
From 24 to 36 months
Ratio 1:4
Bumblebees Room:
We have been focusing a lot on colour matching and numbers where we explored our different coloured bears to count by route to 10. We have spent quite a bit of time exploring water. We have big and small boats which we have had races with. We filled up the water ourselves with the big outside tap. We extended this by adding ice to the water to see how it melts.
In June, we are looking at sensory items. We have been exploring sensory materials such as grass, mud, bugs, pine cones and lavender. We have been planting our own sunflower seed which we can see growing at home which we enjoyed playing in the compost.
Pre-School Room
Butterflies Pre-School
From 3 to 5 Years
Ratio 1:8
Butterflies Room: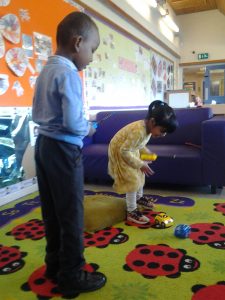 The preschool have been looking at traditional tales, our favourite was Jack and the bean stalk. The children had enjoyed making their very own giant. Excitement grew as we started to plant a variety of different plants, this encouraged the children to talk about similarities and differences, as well as look at growth and decay.  We will continue to talk with the children about how we care for our environment and look after living things.
Bear In Mind
Important Things To Bear In Mind
With this lovely weather we have been having please ensure that all children bring a hat to nursery.
FAQ's