Brooksward Day Nursery & Pre-School
Address: Brooksward School, Tower Drive, Neath Hill, Milton Keynes, Bucks, MK14 6JZ
Tel: 01908 607608
Nursery & Pre-School Manager: Laura Camfield
Nursery Deputy Manager: Kayleigh Fletcher
Pre-School Deputy Manager: Amanda Chapman
Childcare Provided: 6 weeks to 5 years
Opening Hours: 7:30 am – 6:00 pm
---
Structured Education Through Play
Based next door to Brooksward School, Neath Hill, Brooksward Day Nursery and Pre-School provides childcare for children from the local community and surrounding areas. Children attend for a variety of sessions, including special educational needs and/or disabilities and children who speak English as an additional language are also supported. Following the Early Years Foundation Stage (EYFS), we offer structured education through play with a variety of age appropriate, adult-led and child-led activities for all the children. With different and stimulating rooms for each age group, we also have a secure, enclosed outdoor play area where Nursery and Pre-School children can show off their green fingers!
---
Working With Parents
Here at Brooksward Day Nursery & Pre-School, we realise that choosing the right nursery is one of the most difficult decisions parents will have to make. Our aim is that all children are happy, confident, secure and ready for mainstream school. All children at the Day Nursery and Pre-School have a designated key person to build strong relationships with parents and guardians. In addition, we record the children's daily activities in their own Journals, available for parents to take home at the end of the day. We are committed to building parent relationships and this is evident with regular Parent Feedback Evenings.
---
 News From The Rooms
Welcome from the Brooksward Day Nursery and Pre-School, with all the latest childcare news in October/November 2017.
Baby Room
Ladybirds Baby Room
From 6 weeks to 24 months
Ratio 1:3
Ladybirds Room: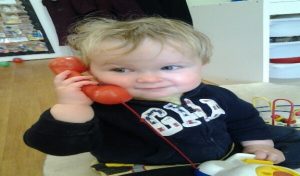 In the month of October, the babies have experienced Halloween through a variety of sensory-based activities. The babies have been playing in many sensory trays such as sensory bags, Halloween based buckets filled with spider webs, spiders, bats and squishy sensory balls etc. The babies have in particularly enjoyed mixing messy media's. The individual babies have been exploring texture through mixing different materials such as custard, pasta, flour, paint and many more. The babies have also been exploring ICT toys such as phones, laptops and the cause and effect toys have with lots of buttons, flaps etc.
During the month of November, we have been exploring activities surrounding fireworks stemming from the interest in our Sparklers and Scarecrows event. The babies enjoyed making their very own scarecrow and participating in many fireworks based sensory and art activities exploring many bright colours. The babies have been developing their fine motor skills during these activities.
Toddler Rooms
Bumblebees Toddler Room
From 24 to 36 months
Ratio 1:4
Bumblebees Room: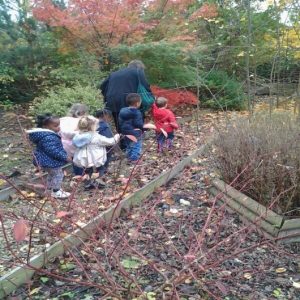 In October we have been spending lot of time outside where we have been exploring leaves. We had participated in leaf painting, counting and sorting leaves and exploring what happens when we place leaves on the parachute and flap the parachute. We introduced lots of vocab such as up, down, under, above etc. During mini strikers, we have been focusing on throwing balls, hand and eye coordination with bats and balls. The children showed an interest in cars, so we bought some metal cars and the children thoroughly enjoyed them playing with the car mats inside and putting them through tubes outside.
In November we have been creating lots of different roleplays such as shops and hairdressers. The children developed their own shop where they brought a keyboard and telephone over to the hairdressers to take down appointments. They have shown an interest in baking by pretending to do this in the home corner. We have therefore been doing lots of real baking with the children and used some of our bakes in a bake sale for 'Children in Need'; making cakes and pizza. The children had a great time at our Sparklers and Scarecrow event and had lots of fun in making their own scarecrow, making a pretend campfire as well as participating in crafts and cooking activities such as fireworks painting and making edible sparklers and even apple bobbing!
Pre-School Room
Butterflies Pre-School
From 3 to 5 Years
Ratio 1:8
Butterflies Room: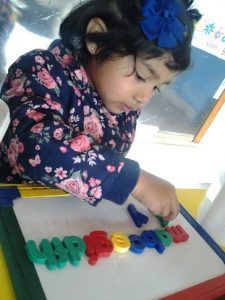 The Butterfly room have been exploring a range of activities to support their phonics. We have been listening for sounds within our names and within phonetic storybooks and finding words with the same sound. For example, we read a story about 'Trish the Fish', the children then identified sheep. We have extended this by going on letter hunts to find objects which have the same letter/letter sound as the first letter in their name, matching letters to their name cards and making marks and movements to represent these.
We have done a lot of learning experiences around Autumn as the children identified change in the weather and leaves falling to the ground, from this, we have provided an Autumn investigation tray with woodland animals, we made leaf people to relive experiences and create our own little stories to share and we have been discovering a few 'new' vegetables and Autumn spices to extend their understanding of the world. These have included pumpkins, ginger, garlic, cinnamon. The children painted with these to find out what they smell like, they have also cut them open to see what they look like inside and they planted the garlic cloves and some ginger into transparent cups to investigate if they would regrow and if they would grow quicker in a dark cupboard or on the light windowsill which we will observe.
In November we have been continuing the children's interest in the letters and phonics by continuing the learning experiences as well as finding the letter sounds in everyday play and routines. The children have been expressing their interest in their understanding of the world of noticing growth and decay over time, we have supported this learning with melting ice: "…the water was in the ice…" "…but it's melted because of the sun…" and we have been cooking biscuits and cakes to see the opposite process of a liquid to a solid. From this, the children have been within the home corner and mud kitchen areas, reliving experiences of cooking and making links of the time of cooking "…one hour is big…". We will continue to look at various vegetables and we read a story about the enormous turnip and creating a story tray with turnips, compost, plates and measuring tapes to look at sizes and numbers.
Bear In Mind
Important Things To Bear In Mind
As the weather is getting colder and wet, please ensure children have their coats and changes of clothes in their bags.
Please apply for your 30-hour funding code if you have not already done so.
Please refresh your 30-hour funding code for January 2018.
You can now start applying for schools for children born between 01/09/2013 and 31/08/2104; deadline is 15th January 2018.
FAQ's