Brooksward Day Nursery & Pre-School
Address: Brooksward School, Tower Drive, Neath Hill, Milton Keynes, Bucks, MK14 6JZ
Tel: 01908 607608
Nursery Manager: Laura Lamberton
Deputy Manager: Kayleigh Fletcher
Pre-School Manager: Simone Mair
Childcare Provided: 6 weeks to 5 years
Opening Hours: 7:30 am – 6:00 pm
---
Structured Education Through Play
Based next door to Brooksward School, Neath Hill, Brooksward Day Nursery and Pre-School provides childcare for children from the local community and surrounding areas. Children attend for a variety of sessions, including special educational needs and/or disabilities and children who speak English as an additional language are also supported. Following the Early Years Foundation Stage (EYFS), we offer structured education through play with a variety of age appropriate, adult-led and child-led activities for all the children. With different and stimulating rooms for each age group, we also have a secure, enclosed outdoor play area where Nursery and Pre-School children can show off their green fingers!
---
Working With Parents
Here at Brooksward Day Nursery & Pre-School, we realise that choosing the right nursery is one of the most difficult decisions parents will have to make. Our aim is that all children are happy, confident, secure and ready for mainstream school. All children at the Day Nursery and Pre-School have a designated key person to build strong relationships with parents and guardians. In addition, we record the children's daily activities in their own Journals, available for parents to take home at the end of the day. We are committed to building parent relationships and this is evident with regular Parent Feedback Evenings.
---
 News From The Rooms
Welcome from the Brooksward Day Nursery and Pre-School, with all the latest childcare news in May/June 2016.
Baby Room
Ladybirds Baby Room
From 6 weeks to 24 months
Ratio 1:3
Ladybirds Room:
In the Ladybirds Room we have been decorating some flowers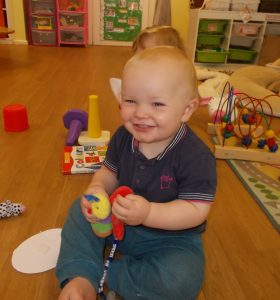 using different coloured paint and butterflies using glue sticks. We've explored our fine motor skills and talked about the different colours. We also explored lots of different sensory materials using lots of descriptive language. More recently we have been exploring different animals, using reacting animal pictures and singing animal songs using props. The babies have shown a great interest in musical instruments and we will be exploring this further.
Toddler Rooms
Bumblebees Toddler Room
From 24 to 36 months
Ratio 1:4
Bumblebees Room:
In the Bumblebees Room we have been developing our cooking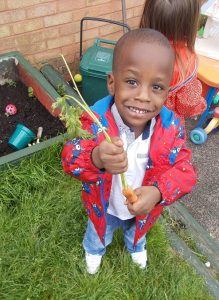 skills as the children have enjoyed pretending to cook in the home corner like mummy and daddy. They have been exploring their fine motor skills and self-care skills by washing their hands independently before cooking. The children found recipes in cook books and measured out the ingredients. More recently the children have been exploring planting and living things. We grew carrots and have a variety of fruits and vegetables in the home corner. We will be extending this through food tasting.
Pre-School Room
Butterflies Pre-School
From 3 to 5 Years
Ratio 1:8
Butterflies Room:

In Pre-School we have been looking at our environment and have been experimenting with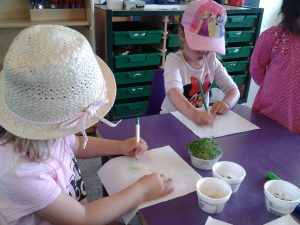 science activities. We have planted beans, cress and tomatoes and are beginning to look at change, growth and decay. The children have been exploring different medias and have been experimenting with creating bubble paintings, textured play dough, cooking and collages. During sports play we have been looking at the effects that exercise has on our bodies. The children also had the opportunity to explore a variety of ICT equipment which included our Bee-Bot and interactive whiteboard.
Bear In Mind
Important Things To Bear In Mind
Dates for your diary: As the end of term is fast approaching we will be very busy leading up to the end of term on the 15th July. We will be holding our Graduation Evening on the 13th July to celebrate all the children going up to big school in September. We will also be having Parent's Evening on the 11th and 12th of July be sure to book an appointment.
Activity Day Camps: We are all looking forward to an exciting time over the summer holidays, with a different trip every Wednesday don't forget to book your space!
FAQ's