Brooksward Day Nursery & Pre-School
Address: Brooksward School, Tower Drive, Neath Hill, Milton Keynes, Bucks, MK14 6JZ
Tel: 01908 607608
Nursery & Pre-School Manager: Kayleigh Fletcher
Pre-School Deputy Manager: Amanda Chapman
Childcare Provided: 6 weeks to 5 years
Opening Hours: 7:30 am – 6:00 pm
---
Structured Education Through Play
Based next door to Brooksward School, Neath Hill, Brooksward Day Nursery and Pre-School provides childcare for children from the local community and surrounding areas. Children attend for a variety of sessions, including special educational needs and/or disabilities and children who speak English as an additional language are also supported. Following the Early Years Foundation Stage (EYFS), we offer structured education through play with a variety of age appropriate, adult-led and child-led activities for all the children. With different and stimulating rooms for each age group, we also have a secure, enclosed outdoor play area where Nursery and Pre-School children can show off their green fingers!
---
Working With Parents
Here at Brooksward Day Nursery & Pre-School, we realise that choosing the right nursery is one of the most difficult decisions parents will have to make. Our aim is that all children are happy, confident, secure and ready for mainstream school. All children at the Day Nursery and Pre-School have a designated key person to build strong relationships with parents and guardians. In addition, we record the children's daily activities in their own Journals, available for parents to take home at the end of the day. We are committed to building parent relationships and this is evident with regular Parent Feedback Evenings.
---
 News From The Rooms
Welcome from the Brooksward Day Nursery and Pre-School, with all the latest childcare news.
Baby Room
Ladybirds Baby Room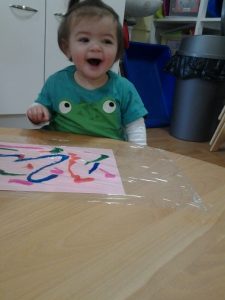 From 6 weeks to 24 months
Ratio 1:3
Ladybirds Room:
Through the month of November, the babies have explored colours through a variety of sensory and art activities this is an extension of from the activities we explored around firework night and our sparkler and scarecrow event. Elaborating on the babies interest toward this tradition, the babies also explored sounds through and mixture of natural and found objects. Extending upon their vocabulary, some of the babies challenged their communication and language skills as they imitated single words and sounds such as bang and crash.
During the festive month of December, the babies will be investigating the traditional celebrations of Christmas. Joining in with a celebratory party with a special surprise from Santa himself, the babies have also been busy creating their own cards and presents for their loved one using different parts of their body and exploring festive sensory trays filled with tinsel, gift bows, mini Christmas trees and more. Showing a great interest towards the winter weather the babies were eager to wrap up warm and investigate the icy temperatures as they took a closer look at the snow and ice. 
Toddler Rooms
Bumblebees Toddler Room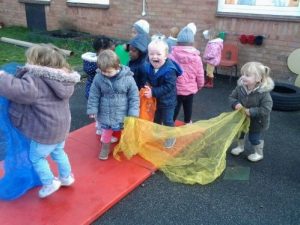 From 24 to 36 months
Ratio 1:4
Bumblebees Room:
During the month of November, we have been making a lot, developing our fine motor skills. We have been making in shaving foam, paint, flour and then the children decided to mark make on sand on the floor.  We have also been developing our mathematical skills by grouping together and sorting the coloured compare bears into different coloured bowls and exploring sizes. While outside the children were enjoying dancing, therefore, we took the CD player outside and danced to music as a group outside using scarfs exploring the movements they made when they moved their bodies and in the wind.
In December we have been talking about Christmas and getting very messy by handprint painting with Christmas colours and lots and lots of glitter. As it has snowed we have been out on the school field exploring the snow and ice and even made a snowman!! We also brought the snow inside to investigate in a big tuff tray for children to continue to play. We will be having a special party to celebrate and Santa will be bringing us a few early surprises.
Pre-School Room
Butterflies Pre-School
From 3 to 5 Years
Ratio 1:8
Butterflies Room: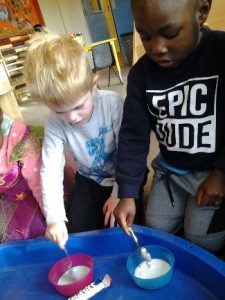 In November, the preschool continued to explore more of the world around them, continuing with Autumn stories and investigation trays. We discussed the safety of fireworks and our experiences of seeing these with families, extending into mark making to represent the fireworks "this one is spinning" we held a lovely scarecrows and sparkler event which was a great turn out! The preschool children discussed this "we had hot dogs and we done lots of things". The learning interest of fireworks extended through discussing the universe where the children explored planets, the moon and sun through books, using ICT to look at what the planets look like and created their own in the messy area which also lead to the children to construct rockets with junk modelling materials and within the indoor/outdoor environments with the blocks and crates "we're going to the moon to see aliens". The preschool children have carried out their own investigation of what would change the colour of milk, they chose ingredients together, some of these included smarties, marshmallows, food colourings, tea bags, cocoa powder, coloured cake cases. They had varied predictions prior to which they thought would be better, a couple of these agreed smarties would be better. We reflected on this within a group discussion afterwards, finding the smarties was not as good as the food colourings, coffee and cocoa powder "maybe we need to add lots more smarties next time, but they went to brown for the chocolate in the milk".
In December, the preschool has been getting into the Christmas spirit as they begin to notice their environments decorated, "Santa is coming, and he leaves us presents but only when we are sleeping". We will continue to get into the Christmas spirit as we decorations around the pre-school room including paper chains, pipe cleaner candy canes and decorating the tree. The preschool will be cooking some delicious treats with wintery flavours and making Christmas crafts to take home. We will also be investigating the Winter season; looking at any similarities and differences compared to the Autumn months.
Bear In Mind
Important Things To Bear In Mind
Last day to apply for schools is 15th January 2018.
Please return the January funding forms as soon as possible to ensure the system is all up to date.
Last day for Christmas half term for 15 hour and 30 hour funded is Friday 15th December and will be returning Tuesday 2nd January 2018, we wish you all a Merry Christmas and a happy new year!
FAQ's