Brooksward Day Nursery & Pre-School
Address: Brooksward School, Tower Drive, Neath Hill, Milton Keynes, Bucks, MK14 6JZ
Tel: 01908 607608
Nursery Manager: Laura Lamberton
Deputy Manager: Kayleigh Fletcher
Pre-School Manager: Simone Mair
Childcare Provided: 6 weeks to 5 years
Opening Hours: 7:30 am – 6:00 pm
---
Structured Education Through Play
Based next door to Brooksward School, Neath Hill, Brooksward Day Nursery and Pre-School provides childcare for children from the local community and surrounding areas. Children attend for a variety of sessions, including special educational needs and/or disabilities and children who speak English as an additional language are also supported. Following the Early Years Foundation Stage (EYFS), we offer structured education through play with a variety of age appropriate, adult-led and child-led activities for all the children. With different and stimulating rooms for each age group, we also have a secure, enclosed outdoor play area where Nursery and Pre-School children can show off their green fingers!
---
Working With Parents
Here at Brooksward Day Nursery & Pre-School, we realise that choosing the right nursery is one of the most difficult decisions parents will have to make. Our aim is that all children are happy, confident, secure and ready for mainstream school. All children at the Day Nursery and Pre-School have a designated key person to build strong relationships with parents and guardians. In addition, we record the children's daily activities in their own Journals, available for parents to take home at the end of the day. We are committed to building parent relationships and this is evident with regular Parent Feedback Evenings.
---
 News From The Rooms
Welcome from the Brooksward Day Nursery and Pre-School, with all the latest childcare news in November 2016.
Baby Room
Ladybirds Baby Room
From 6 weeks to 24 months
Ratio 1:3
Ladybirds Room:
We had an Autumn walk around the fields as one of our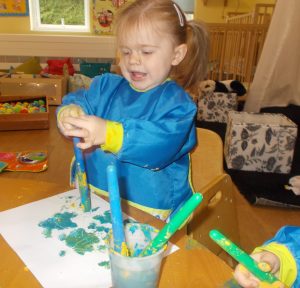 friends brought in a leaf and we loved it. On our walk, we collected lots more leaves and explored them in many different ways. We felt them and used lots of new words such as orange, yellow, crunch, hard, soft, big and small. We even painted with them.
We have been working on our fine motor skills and have done lots of different things to help, such as painting with rollers with different types of handles. We even made a post box and had to work out how to post the letters inside.
Toddler Rooms
Bumblebees Toddler Room
From 24 to 36 months
Ratio 1:4
Bumblebees Room:
We have been experimenting with different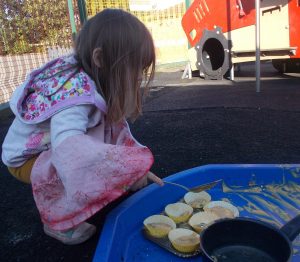 textures. We played with flour, sand,
cornflour, pasta and even rice pudding. We then added these ingredients to our home corner – we love to pretend to make cakes and put them in the oven. We enjoyed this so much that we have done lots of cooking activities and we have made cakes and biscuits.
When cooking, we measured all the ingredients and mixed them all together. We made so many cakes and biscuits that we had a bake sale and sold some to raise money for Children in Need – our mummies and daddies said our bakes were yummy! Lots of us had seen fireworks displays and were very excited to tell all our friends so we made firework pictures that looked just like the fireworks we saw in the sky. We talked about all the colours and patterns we could see.
Pre-School Room
Butterflies Pre-School
From 3 to 5 Years
Ratio 1:8
Butterflies Room: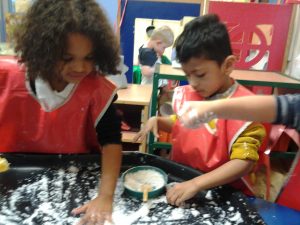 During the half term holidays, we enjoyed a range of spooky activities and a trip to Mead Open Farm where we experienced the spooky houses. On our last day of the holidays we held a Halloween Party – we also had the opportunity to carve our very own pumpkin.
At Pre-School, we have been focusing on science experiments, we explored soapflakes, cornflour and used milk to look at colour change. We really found the milk experiment fascinating, watching as the colours ran away from the washing up liquid.  We have all been working very hard practising our Christmas song ready for the grand Christmas performance.
Bear In Mind
Important Things To Bear In Mind
Christmas is fast approaching and we will be having a Christmas party with a very special guest on Friday the 16th December.
Also all our funded children will break up for Christmas on the 16th December.
FAQ's