Brooksward Day Nursery & Pre-School
Address: Brooksward School, Tower Drive, Neath Hill, Milton Keynes, Bucks, MK14 6JZ
Tel: 01908 607608
Nursery Manager: Laura Lamberton
Deputy Manager: Kayleigh Fletcher
Pre-School Manager: Simone Mair
Childcare Provided: 6 weeks to 5 years
Opening Hours: 7:30 am – 6:00 pm
---
Structured Education Through Play
Based next door to Brooksward School, Neath Hill, Brooksward Day Nursery and Pre-School provides childcare for children from the local community and surrounding areas. Children attend for a variety of sessions, including special educational needs and/or disabilities and children who speak English as an additional language are also supported. Following the Early Years Foundation Stage (EYFS), we offer structured education through play with a variety of age appropriate, adult-led and child-led activities for all the children. With different and stimulating rooms for each age group, we also have a secure, enclosed outdoor play area where Nursery and Pre-School children can show off their green fingers!
---
Working With Parents
Here at Brooksward Day Nursery & Pre-School, we realise that choosing the right nursery is one of the most difficult decisions parents will have to make. Our aim is that all children are happy, confident, secure and ready for mainstream school. All children at the Day Nursery and Pre-School have a designated key person to build strong relationships with parents and guardians. In addition, we record the children's daily activities in their own Journals, available for parents to take home at the end of the day. We are committed to building parent relationships and this is evident with regular Parent Feedback Evenings.
---
 News From The Rooms
Welcome from the Brooksward Day Nursery and Pre-School, with all the latest childcare news in January/February 2017.
Baby Room
Ladybirds Baby Room
From 6 weeks to 24 months
Ratio 1:3
Ladybirds Room: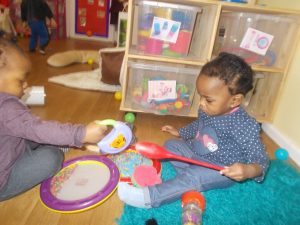 In the month of January, the babies have enjoyed exploring using their senses, they have been engaged in lots of activities such as play dough and finger painting,
they have also explored sounds and how sounds can be created by using a variety of resources such as instruments and metal objects.
In the month of February, the babies will be exploring numbers, participating in lots of counting activities to become more familiar with number words.
Toddler Rooms
Bumblebees Toddler Room
From 24 to 36 months
Ratio 1:4
Bumblebees Room: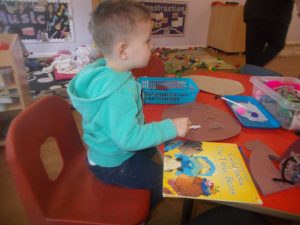 This month we have been looking at different stories where the children have been pointing to the pictures telling us key words from the story. The books they have really enjoyed are the three bears and the Gruffalo. We have been drawing bears and talking about our pictures to help develop language skills.
We have also been looking at the frost in the garden and the different patterns it makes and playing with ice, using it to make marks on the ground.
Next month we will be spending time looking at numbers activity such counting objects and encouraging all children to use number language such as more or less.
Pre-School Room
Butterflies Pre-School
From 3 to 5 Years
Ratio 1:8
Butterflies Room: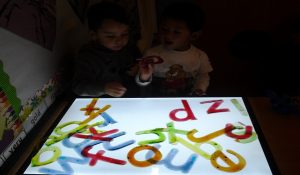 This half term at Pre-school we have been focusing on using our senses, we explored our sight, taste, smell and touch. We used rice, shaving foam and paint to explore touch. We made different playdough using fragrances such as peppermint and lavender which allowed us to use our sense of smell and also tried different types of food to explore taste. The children were excited to use our new colour box to explore colour change, as well as using paints to extend our visual senses.
Bear In Mind
Important Things To Bear In Mind
Don't forget parents evening on the 31st January and the 1st February. Ask your child's key person to book an appointment.
FAQ's